In this article, know why video testimonials are game-changer in 2019? Also, about, reasons why businesses should have video testimonials on their Radar?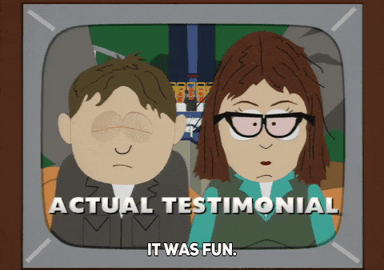 Smart marketers, over the years, have realized that brand promotions are often considered fake and fabricated by the customers and so they eventually become a fruitless exercise.
On the other hand, a good word from the horse's mouth (customers themselves that is) could actually work in their favor, especially when it comes to acquiring and retaining of customers in the longer term.
Put another way, when satisfied customers speak about your product, potential customers view it as more credible and persuasive.
Enter testimonials — specifically video testimonials. When you combine the power of emotionally- enriching, empowering customer stories combined with visuals and text, your customers will be sold on your product.
So, it comes as no surprise that video testimonials have gained an upper hand over plain-text-based testimonials from customers.
New Video Stats and Facts 2019
According to Forbes research, 59% of senior executives would prefer to watch a video than reading the text.
Over 500 million (half a BILLION) people are watching video on Facebook every day (via Forbes).
According to 'The State of Video Marketing 2018' from Demand Metric, 83% of marketers believe that video is becoming more important than ever.
According to Brightcove's 2018 Video Marketing Survey, over half (53%) of consumers have reported that they would engage with a brand after viewing one of their videos on social media.
According to animoto.com, 88% of marketers are satisfied with their social media video marketing
Going by the above stats and facts, videos have gained a stamp of approval from marketers.
These stats and facts should be enough to convince you to beef up your video marketing strategy, specifically video testimonials in 2019.
5 Reasons Why Businesses Should Have Video Testimonials On Their Radar
There are dime a dozen reasons why businesses should have video testimonials on their radar. Here are stated the top five of those.
1. Video Testimonials Tugs at Customers' Heart-Strings
When it comes to stirring up human emotions, videos are the best bet. The text contains no feeling. Unless you have David Ogilvy on board to Copywrite your landing pages, videos should be your topmost priority this year.
The most significant plus point of a video is that its content is more comfortable to consume and, more importantly, it quickly strikes a chord with the user, unlike in the case of plain-text testimonials. Customers don't have the patience these days to read and interpret text messages.
Other plus points of the video include: Video testimonials let the customers know as to who is reviewing your product or service and, in turn, helps build an emotional bond with the person's story. And, aside from facts, you also get to see the emotions on a person's face. This kind of connection builds trust, which is crucial for a great business-to-customer relationship.
Use Video Editing Software to give your video testimonials the final touch-ups.
2. Video Testimonials Builds Trust and Credibility
Testimonials actually wear the crown when it comes to building brand trust and credibility.
The sales of your product or service will only scale up if the viewers start trusting your reviews and testimonials. And, if you do not know, people tend to believe reviews from strangers more than their own family and friends.
So, video testimonials are a powerful sales tool with real people addressing your network, family, and friends about your company's product or services.
Even for those who are hearing you for the first time, videos help establish trust. It allows customers to overcome skepticism that's usually associated with plain-test testimonials and help build brand credibility.
A couple of points to bear in mind while creating video testimonials: Make sure the environ is relaxed so that the video looks natural and not something like you has cooked up.
However, do remember, users like video testimonials, and they tend to trust them easily. But then, it's our job to make them trustworthy.
3. Video Testimonials Are More Relatable than Plain-Text Testimonials
Successful testimonials have customers as their central heroes. When someone who is one among you, convincingly speaks about the experiences they had with your brand, he or she might inspire others to go for your product or service.
However, video testimonials take it up a notch, as the prospective customer can hear people speaking in favor of the company and so are easily convinced with their messaging, prompting them to buy your product or service.
4. Video Testimonials Produces Higher Customer Retention Rate than Text
According to a commonly cited research report, videos have a 95% retention rate, while people remember only 12% of textual information.
If you ask, why? It's because videos make content "stickier." Videos are known to trigger emotional centers in the brain, which, in turn, increases information retention.
Scientists have found out that when you're engrossed in a story, it becomes all-consuming.
So, when stories of customers who have overcome hardships using your product or service get displayed through videos, customers automatically resonate with it and they decide to stick with your company and its products.
Also, graphics and visuals make videos more meaningful and engaging and help people retain information.
What's more, a well-planned video addresses all the pain points, which, in turn, helps the customer remember the company.
5. Video Testimonials Converts and Generates Revenue
All marketing tactics have one ultimate goal: Convert browsers into buyers. And, if you go by the above reasons, video testimonials help convert.
As per the Content Marketing Institute's 2018 study, videos ranked third in the list of content types that aided content marketers to reach their organization's goals. Ebooks and whitepapers clinched the #1 position, while case studies bagged #2 spot.
Going by videos staggering success rate, content marketers are bringing both video and testimonials together to draw more shares, traffic, and trust that eventually helps convert customers.
So, if your company is serious about conversions, start creating more and more video testimonials.
Sum up
Video testimonials are the sine qua non of a robust digital video marketing. It is one of the best techniques to bolster your digital marketing efforts and, in turn, fostering engagement, and generating click-throughs, leads, and shares. So, before the online market gets inundated and may be saturated with videos, make more and more video testimonials while the sun shines.
So, if you want a video testimonial that could leverage out your business possibilities contact us.
Author Bio
This is Jennifer Warren, a Content Consultant with GoodFirms, a review and research platform for eCommerce development companies, top video production companies, among many others. I enjoy humanizing technology through inspirational content, devouring best sellers, watching war movies, and running behind my sunshine sons.